The 2008 Asian Senior Masters – Malaysia Series

Asian Senior Master golf tournaments are International Senior Professional golf tournament, preceded by 6 ASM Pro-Am events. Please click here for more information and an over view about the tournament.

We are pleased to offer your company the opportunity to investment in a Private 32 flight ASM Pro-Am golf tournament which caters for 96 of your invited VIP amateur golfers and involves a sponsorship investment of RM 198,000 @ SGD$ 86,888 providing the following sponsors benefits to be enjoyed during the ASM tournament week:

1. 100 - VIP invitations to the 2007 ASM Sponsors VIPs & Players Welcome Cocktail Reception at 7.30pm on Tuesday @ The Official Hotel and up to 8 exta for the sponsor's CRM staff.

2. The Sponsor's Private ASM Pro-Am tournament catering for 96 VIP amateur golfers can be staged on Tuesday, Wednesday or Thursday either in the morning or afternoon during the tournament week, subject to availability. ASM Pro-Ams are conducted from shotgun starts and are played in a 1 Pro & 3 Amateur format.

The top 9 best gross scoring participants from your company's Private ASM tournament will qualify for places in the ASM Amateur Semi-Finals to be contested on Friday and Saturday incorporated into the first 2 days of the ASM Professional tournament, to be played in a 3 Pro & 1 Amateur format.

In addition the Sponsor will be awarded an extra 3 sponsor's exemptions in the ASM Amateur Semi-Finals which they may award to their VIP amateur golfers with a handicap of 10 and below.

The top 3 best gross scoring participants from the ASM Amateur Semi-Finals will compete in the ASM Amateur Finals on Sunday in a 3 ball amateur flight, Ting-Off prior to the Finals of the ASM Pro tournament.

The Asian Senior Masters Pro-Ams and the ASM Pro-Am Qualifier events are open to both male and female participants who must be at least 12 years of age and posses valid golf handicaps.

3. 96 - ASM Pro-Am goodie bags, containing ASM Pro-Am T-Shirts, Caps, Balls, & Official ASM Magazine.

The Sponsor's name and or logo will be placed on the ASM Pro-Am T-Shirt to be provided to all participants.

4. Opportunity to include your company's products, corporate branded gifts, and or other information in the 800 ASM goody bags. For branding ideas click here and click here for other ideas

5. 100 - invitations to breakfasts or lunch prior to T-Off in your Private ASM Pro-Am tournament

6. 1 - cooler box per buggy containing water, soft drinks & beer FREE on course refills

7. 100 - invitations to lunch or dinner and the Prize Giving function after your Private ASM Pro-Am tournament

8. priority parking places on the days of your ASM Pro-Am for your guests

9. 100 - VIP passes allowing access to the VIP hospitality areas which will operate from 8am through to 5pm daily from Friday through Sunday during the ASM Professional event. All F & B including coffee, tea, beer, whisky, water, light snacks, and lunch provided in the VIP hospitality areas is FOC.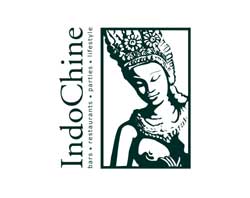 IndoChine are the Official Caterers of the ASM.
For more information about IndoChine please click here or visit www.indochine.com.sg


10. 40 - VIP parking stickers valid from Fri day – Sunday during the ASM Professional event.

11. 2 colour pages in the ASM Official Program - please provide your Corporate LOGO & message - finished art work - camera ready copy.

Corporate BRANDing - your company LOGO and or message will be incorporated into the various ASM event signage to be produced as follows;

12. 2 - exclusive T-Box each to be dressed with 5 signs with your company's LOGO comprising 1 - single sided sign measuring - 3m X 2m and 4 - sign measuring - 3m X 1m - with your LOGO – only 2 different sign designs are allowed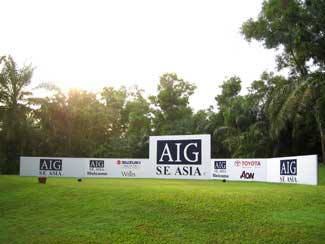 12 - additional signs measuring - 3m X 1m - with your LOGO to be placed along the fairways and at strategic locations on the golf course


13. LOGO & branding on 2 side panels, and the base plate, of 1 on course leader board


14. On the ASM Press Conference back drop, and various stage backdrops to be used at all ASM official functions, such as the ASM Welcome Cocktail Reception for all ASM pro & amateur golfers, and sponsors, and at the various ASM Pro-Am prize giving ceremonies.


15. On the on the backdrop for the ASM Prize Giving and Closing ceremony, which will be conducted in front of the main club house to view an example of the backdrop


16. On the 2 side panels and the base plate of the Main Results leader board to be located in a prominent location near both the club house and VIP hospitality areas, visible to all attending the event.
Corporate BRANDing - your company LOGO and or message will be incorporated into and appear on the ASM website as follows;

17. the revolving display with other sponsors on the front page located at the bottom right of the ASM website. Click here or visit www.asm-malaysia.com to view.

18. the scrolling banner on the right side of the webpage created for the ASM Pro-Am in which your company will participate. Click here to view

19. on the dedicated main sponsors section of the website.
To view click here or visit www.asm-malaysia.com/sponsors.asp

If desired a hyper link to your company's web site or nominated webpage can be included.

20. one exclusive page in the online news section, where your company can promote their good corporate citizen activities, products and or services.

21. Subject to space constraints and prior arrangement, the opportunity to conduct product displays & promotions and the opportunity to increase BRANDing inside the Club House & VIP hospitality areas and in the various ASM function rooms where the ASM Pro-Am lunches & prize giving ceremonies will be held, signage, table top displays, etc.. during the ASM tournament week.

I trust you will agree that participating in ASM Professional Tournaments and staging your company's very own 32 flight Pro-Am participating and interacting with your invited VIP guests is a perfect way to fly the company flag, compete with some of Singapore and the regions best amateur golfers, entertain your existing & prospective clients, and or reward your top performing colleagues and staff.

It might be possible for your company to hold its quarterly, half yearly and or annual regional meeting to coincide with the 2007 ASM tournament.

In the event that a RM 188,000 @ SGD$ 80,000 @ USD$ 50,000 investment might be more than your company has budgeted for this year, it might be an idea to try and involve some of your group's regional Asian business units and associated companies to spread the cost.

Other more modestly priced corporate sponsorship packages exist, please click here or visit http://www.asm-malaysia.com/newsdetails1.asp?NewsID=746 to view other Corporate Sponsorship & Pro-Am packages available.

Thank you for taking the time to view this information,

Sincerely yours,

Click to email Chuan Campbell - Managing Director - to put a face to a name click HERE

Click to email Matthew Murray - Tournament Director - to put a face to a name click HERE

ASM Golf Pte Ltd / Asian Seniors Tour Pte Ltd
45 Kian Teck Drive, Block 1, Singapore 628859
Tel: (65) 6262 4843
Fax: (65) 6262 1519